It's a numbers game. The bottom line is that we offer you a whopping 40%-70% off - which translates into hundreds of dollars of profits on every transaction - on First and Business Class Travel for many worldwide destinations including Europe, Asia, Africa, Australia, South America, The Middle East, Round the World, Fares originating outside the U.S., and other complicated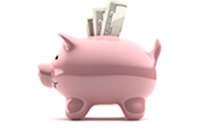 itineraries on most major airlines, including domestic travel. Last minute is our specialty.
You can be assured of continually receiving low, low fares to pass on to your first and business class clients, as our clout with the airlines cultivated through four decades in the industry, consistently gives us access to the best contracted rates, as well as waiving minimum and maximum stay requirements, and confirming space that shows unavailable in your reservation system.

The most rapid turn-around time and expert handling of every transaction
Confirming space on heavily booked flights and still offering you a discounted fare
Handling last minute reservations
Waiving minimum/maximum stays
Consistent client follow- up and offering options custom tailored to your client's needs
Going the extra mile and unconditionally being there when the unexpected happens
Giving you the freedom to set your own confidential markup (no cap)
Billing your clients directly for the entire amount and sending you your commission, paid promptly!
Partnering with you to grow your business and establish a repeat clientele
Personal accountability to deliver on our commitments